The best vacations are about experiencing new things – activities, cultures, languages, and flavors. And Costa Rica is a great place to experience them all. You may want an oceanfront luxury villa in Costa Rica with a full kitchen but you certainly don't want to cook every meal! If you are planning to spend a fun and relaxing time at a vacation rental in Guanacaste, Costa Rica then Playas del Coco is the place to pick. There are 85 restaurants and bars listed on Google Maps, so you are sure to find something to please all palates.
We took a Facebook poll to help us figure out where everyone in town loves to eat. Let's break down some of our favorite restaurant finds in Playas del Coco, Costa Rica.
There are many types of cuisine to choose from in this bustling beach town. You won't just find Costa Rican food in a place like Playas de Coco but, of course, you have to try it!
Costa Rican: Mar y Tierra Restaurante can be found across the street from a popular tourist and expat hangout called the Garden Bar. Mar y Tierra serves traditional Costa Rican food like casados, olla de carne, deep-fried full snapper, seafood, typical breakfast, and much more. They are open for breakfast, lunch, and dinner. We suggest you try the daily special – you can't go wrong!
Italian: Il Gusto della Vita is kind of a hidden gem along main street Coco. Located in the back of Plaza del Coco next to Coconutz Bar and Restaurant, they serve real Italian cuisine complete with homemade pasta. And according to our Facebook poll, they make a mouth-watering mushroom risotto!
Asian: While it hasn't been around for long, a fast favorite for folks in Coco is Masala Indian Restaurant (currently rebranding to Tandoor). This restaurant is so popular it can also be found in a few other towns along the coast. Full of authentic Indian flavors, this is one of the only places to have lamb on the menu. Several vegetarian and gluten-free options are also available. There are many delicious drinks on the menu, too! If you're new to Indian food, the butter chicken aims to please.
American: Zi Lounge on Main Street Coco has a large American-style menu with a little something for everyone, from burgers to steak, pasta, pizza, seafood, and even some typical Costa Rican meals. The Chef Specialties menu offers some gems including the generous chicken Milanese – prepare to take home leftovers! This is also the place to end up if you're looking for a fun night out. Start your evening at Coconutz and walk down the block to Zi's where live music is frequent and dance parties are known to erupt!
Mexican: Found on a busy corner near the beach, El Capricho Mexican Restaurant and Bar is a great spot for people-watching and authentic Mexican cuisine. Tacos de Birria and the chorizo hamburger are among the dishes that can't miss. The margaritas are excellent and the "Bulldog" (margarita with an upside-down bottle of Corona) is perfect for the adventurous!
These next restaurants didn't fall into a nationality-type category per se but they are too good to be missed!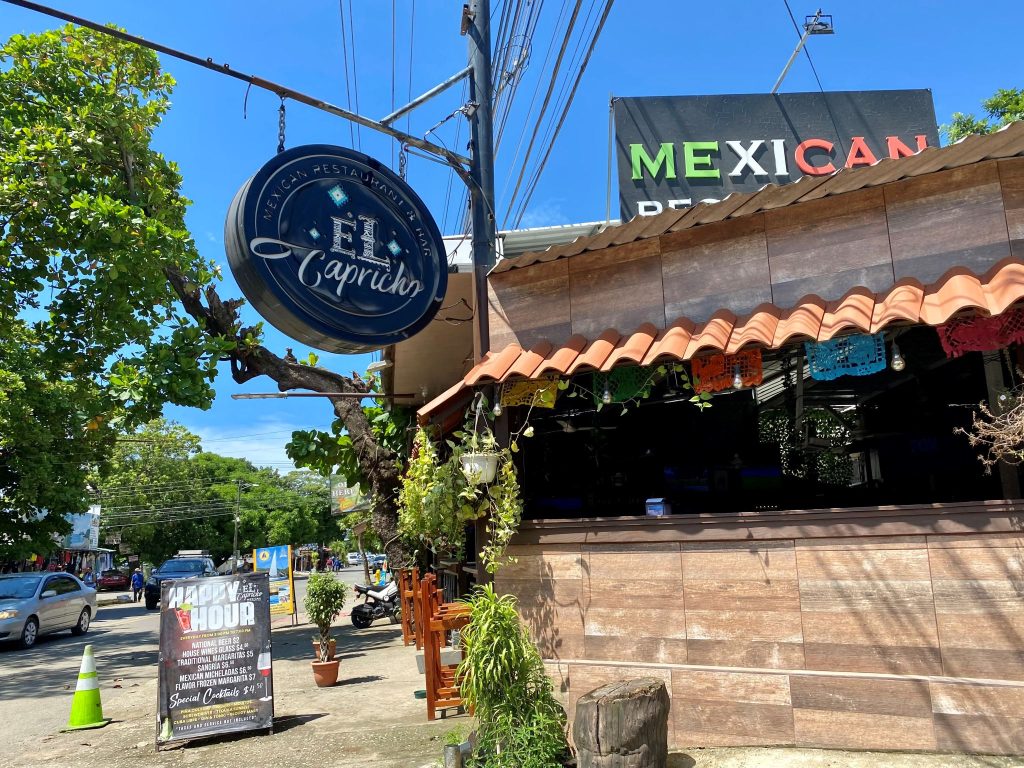 Pizza: We know pizza is originally Italian fare, but the pizza you find nowadays is hardly sticking to its original design…but the pizza at Ristopizza Napolitano comes pretty darn close. Considered by many to be the best wood-fired pizza in Playas del Coco, this restaurant is worth leaving downtown for. It's found up the main street by the anchor that welcomes you into town. According to the raving reviews – save room for the tiramisu!
Seafood: The top restaurant mentioned in our Facebook poll has got to be, hands down, Mar Azul. Another restaurant off the beaten path, it is worth locating on Google Maps! Here you can choose your choice of fish and how it's prepared along with a sauce and sides alongside stunning cocktails. Choose indoor dining with AC or eat al fresco and cool off in the pool!
Fusion: If you want your food to look as good as it tastes, the beautiful cuisine at Nikkei in the Pacifico Village Shops is the place to be. Considered an upscale Japanese-Peruvian fusion menu, you can enjoy sushi rolls, beef tataki, ramen, and grilled octopus. With a professional chef in the kitchen, the menu is always evolving so you'll have to keep going back to try everything on this menu!
Steaks: We would be remiss not to mention Che Sirloin Steakhouse and Grill when talking about the best restaurants in Playas del Coco. This steakhouse was mentioned time and time again in our Facebook poll. The best steaks, gourmet burgers, big portions, and a lovely atmosphere. This restaurant can be found in the outdoor courtyard of El Pueblito Sur, at the entrance of the Las Palmas neighborhood.
Wraps: Who doesn't love a quick wrap you can hold in one hand and a cold beer in the other? The only restaurant serving up Lebanese food in Playas del Coco, Le Coq serves up flavourful chicken shawarma, falafel, souvlaki, and more along the main street with the perfect perch for people-watching. No matter what you get, order the garlic potatoes – trust us!
Additionally, we would be remiss not to mention our top breakfast, lunch, and dinner spots.
Breakfast: Rambutan Restaurante is part of the M&M Beach House Hotel found right on the beach. You can get a hearty breakfast here served late for those who like to sleep in on their vacation. They have Costa Rican and American style breakfasts, an omelet, skillet, and even a breakfast burrito! Don't forget to order a delicious iced coffee topped with whipped cream.
Lunch: Johann Bistro has delicious sandwiches served in an air-conditioned space, perfect for escaping the early afternoon heat. This is also a great spot for a light lunch of chicken Caesar salad or some of the best sushi in town. They also serve up some "Salty Crepes" for those who like to brunch.
Dinner: This one was a toss-up between La Dolce Vita and Soda Mediterranea as both garnered much praise on our "best restaurants in Coco" poll. Thankfully, both restaurants can be found in El Pueblito Sur where you will dine in the cozy courtyard with a Mediterranean feel. Both feature homemade pasta and fresh seafood and serve a carpaccio to write home about!
While we only chose one restaurant for each category there are many more well worth trying. If you are planning a trip to Playas del Coco, Costa Rica, plan to eat at one or all of these fabulous restaurants!
Find the best vacation rentals in Guanacaste, Costa Rica! Rich Coast Vacations offers affordable condos and luxurious oceanfront villas in Costa Rica with add-ons such as car rentals, tours, in-house services, and vacation specialists to give you the trip of your dreams. Contact us today at bookings@costaricavacation.properties.
Written by Jennifer LaCharite – Costa Consultants, International