If you're dreaming of a sun-soaked escape, the charming beach town of Playas del Coco on the Pacific coast of Costa Rica is the perfect destination for you. With stunning beaches, vibrant local culture, and a variety of neighborhoods to suit your needs, Playas del Coco offers an unforgettable experience. In this guide, we'll take you on a virtual tour of three beautiful areas within Playas del Coco: Las Palmas, Coco Bay Estates, and Pacifico, all while keeping an eye out for the perfect Costa Rica home rentals.
Las Palmas: A Hidden Gem
Las Palmas is a tranquil residential community just a short walk from the lively center of Playas del Coco. If you're seeking a serene retreat with easy access to the town's amenities and beach, Las Palmas may be the perfect choice.
Costa Rica Home Rentals: Las Palmas boasts a range of vacation rentals, from cozy condos to spacious villas. These accommodations often come with modern amenities, swimming pools, and lush gardens, making them ideal for families, couples, or solo travelers.
One of the standout features of Las Palmas is its proximity to Coco Beach, known for its calm waters and stunning sunsets. Spend your days basking in the sun and spend your evenings enjoying sunset on the beach.
Las Palmas is also home to a variety of dining options and bars, where you can savor local cuisine and sip on refreshing tropical drinks. At its entrance are two plazas, a small grocery store, a few great restaurants, a day spa, coffee shops, healthcare facilities, and even a tattoo shop!
For those who want to explore beyond the beach, Las Palmas offers easy access to a range of activities and attractions, including visiting nearby wildlife sanctuaries and taking boat tours to spot dolphins and turtles.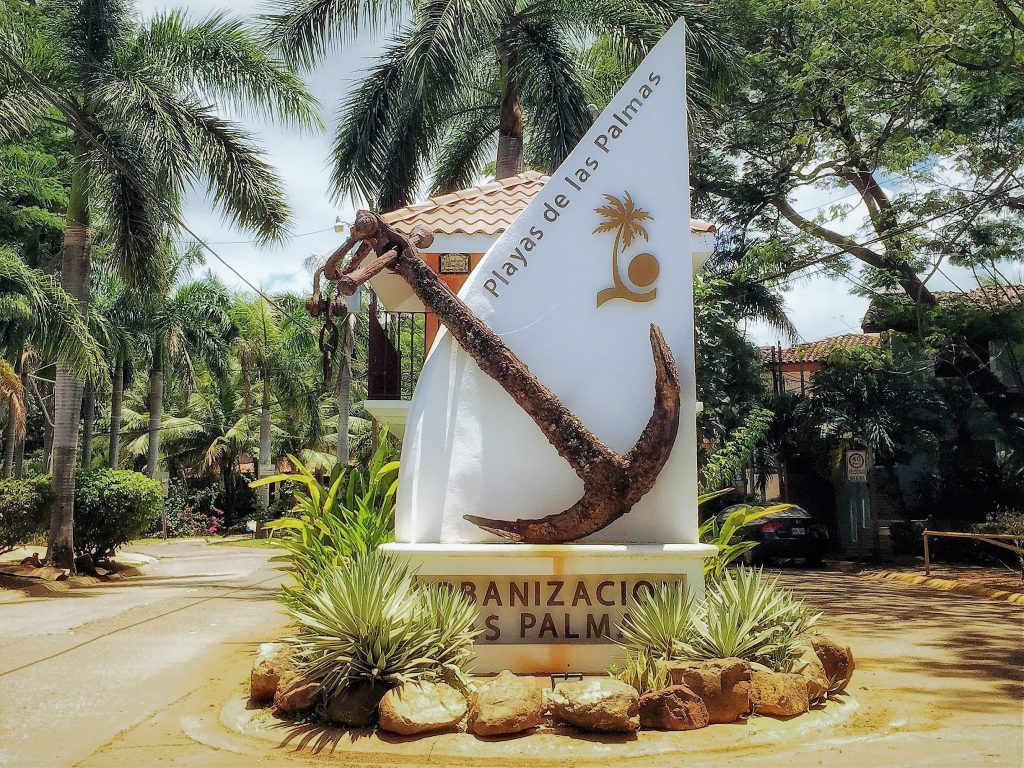 Coco Bay Estates: Luxury Living
If you're looking for a taste of luxury during your stay in Playas del Coco, Coco Bay Estates is the place to be. This upscale gated community combines the beauty of nature with modern conveniences.
Costa Rica Home Rentals: While Coco Bay Estates primarily consists of private residences, many homeowners offer their properties as vacation rentals. You can find exquisite villas and condos with opulent amenities like infinity pools, breathtaking ocean views, and lush tropical gardens.
Within the community, you'll discover an exclusive beach club, perfect for swimming or indulging in gourmet Asian and Mexican dining. The beach club often hosts events and live music, adding a touch of entertainment to your evenings. Guests here also have access to the beach club at Ocotal, which is right next to the popular Father Rooster restaurant and has fantastic ocean views.
If you're into paddle board sports, you're in for a treat! The club at Coco Bay Estates has lit tennis and pickleball courts.
Coco Bay Estates is also a great place for nature lovers. It's a haven for birdwatchers, with various species of tropical birds frequenting the area. Take a leisurely walk through the lush gardens and you might spot colorful Motmots or a flock of entertaining parakeets.
Pacifico: The Heart of Playas del Coco
Pacifico is the vibrant heart of Playas del Coco. This bustling neighborhood offers a unique blend of convenience and beauty, making it an excellent choice for visitors who want to be at the center of the action.
Costa Rica Home Rentals: Pacifico boasts a range of luxury rental options, from modern condos to spacious townhouses. Many of these rentals come with access to Pacifico's outstanding amenities, including pools, fitness centers, and a retail village with restaurants and shops.
During the day, you can lounge by the stunning Pacifico pools, complete with waterfalls and a poolside bar. This is an excellent place to soak up the sun, socialize, and enjoy the tropical ambiance.
Pacifico is also home to the renowned Automercado, a high-end grocery store where you can find a wide selection of fresh produce, gourmet items, and international brands. It's the perfect place to stock up your vacation rental kitchen and prepare delicious meals.
In the evenings, Pacifico comes alive with a vibrant nightlife scene. You'll find a variety of bars and restaurants offering live music, dancing, and cocktails. It's the ideal place to enjoy your Costa Rican vacation and make new friends.
If you're interested in exploring the natural beauty of the region, Pacifico is a gateway to numerous adventures. From paddleboarding to fine dining, Pacifico guests have access to their off-site beach club, which features an upscale restaurant, poolside bar, and a boat club.
Planning Your Visit to Playas del Coco
Before you embark on your journey to Playas del Coco, here are some essential travel tips:
Travel Documents: Ensure your passport is valid for at least six months beyond your travel dates. Check visa requirements for your country of origin. Many foreigners can now get a 180-day visitor visa with proof of onward travel, doubling the stay from the former 90-day limit.
Weather: Costa Rica has a tropical climate, with a rainy season from May to November and a dry season from December to April. The dry season is an excellent time to visit for sunny days and hot temperatures, while the rainy season boasts greener gardens and breathtaking sunsets.
Currency: The official currency is the Costa Rican Colón (CRC), but US dollars are widely accepted. It's a good idea to carry some local currency for small purchases.
Language: While Spanish is the official language, many locals in Playas del Coco speak English, especially in tourist areas. They do appreciate any attempt at learning their language, however, when in doubt, just say "pura vida!"
Transportation: You can rent a car or use taxis to get around. Walking and biking are also popular options within the town but zipping around on a golf cart is by far the most fun choice.
Safety: Playas del Coco is generally safe, but it's essential to take standard precautions like securing your belongings and staying aware of your surroundings.
With its diverse neighborhoods and wide range of Costa Rica home rentals, Playas del Coco has something for everyone. Whether you seek relaxation, adventure, or a taste of luxury, you'll find it in this captivating coastal town. So, pack your bags, leave your worries behind, and get ready for an unforgettable experience in Playas del Coco, Costa Rica!
Find your perfect vacation spot in Playas del Coco, Costa Rica! Rich Coast Vacations offers affordable condos and luxurious oceanfront villas in Costa Rica with add-ons such as car rentals, tours, in-house services, and vacation specialists to give you the trip of your dreams. Contact us today at (506) 8917-3917 or richcoastvacations@gmail.com.
Written by Jennifer LaCharite – Costa Consultants, International