When it comes to planning a vacation, choosing the right destination to serve as your home base is crucial. Playas del Coco and Playa Hermosa, located in the stunning province of Guanacaste, offer an ideal setting for your getaway. From convenient flights and well-maintained roads to a variety of amenities and proximity to exciting tourist activities, these coastal gems have it all. Let's explore why Playa Hermosa and Playas del Coco, Costa Rica should be at the top of your vacation list.
Convenient Flights and Close Proximity to LIR Airport
Playas del Coco and Hermosa Beach boast one significant advantage over other Costa Rica beach destinations – their accessibility. The Liberia International Airport (LIR) is just a short half an hour drive away, making your journey to paradise quick and easy upon landing. With numerous airlines operating direct flights to the Liberia International Airport from major cities, your dream vacation is only a flight away. Once you land, you'll be greeted by the warm tropical breeze and the promise of unforgettable experiences.
Easy Navigation with Paved Roads and Clear Signage
Navigating a new destination can be intimidating, but Playas del Coco and Hermosa make it a breeze. The region is well-connected by paved roads that are well-maintained and accompanied by clear signage, which is more than we can say about many of the other coastal towns in the country! This will allow you to reach your accommodations with ease, as well as surrounding stores, restaurants, beaches, and sites. This convenience will not only enhance your vacation experience but also allow you to explore the surrounding areas without worry.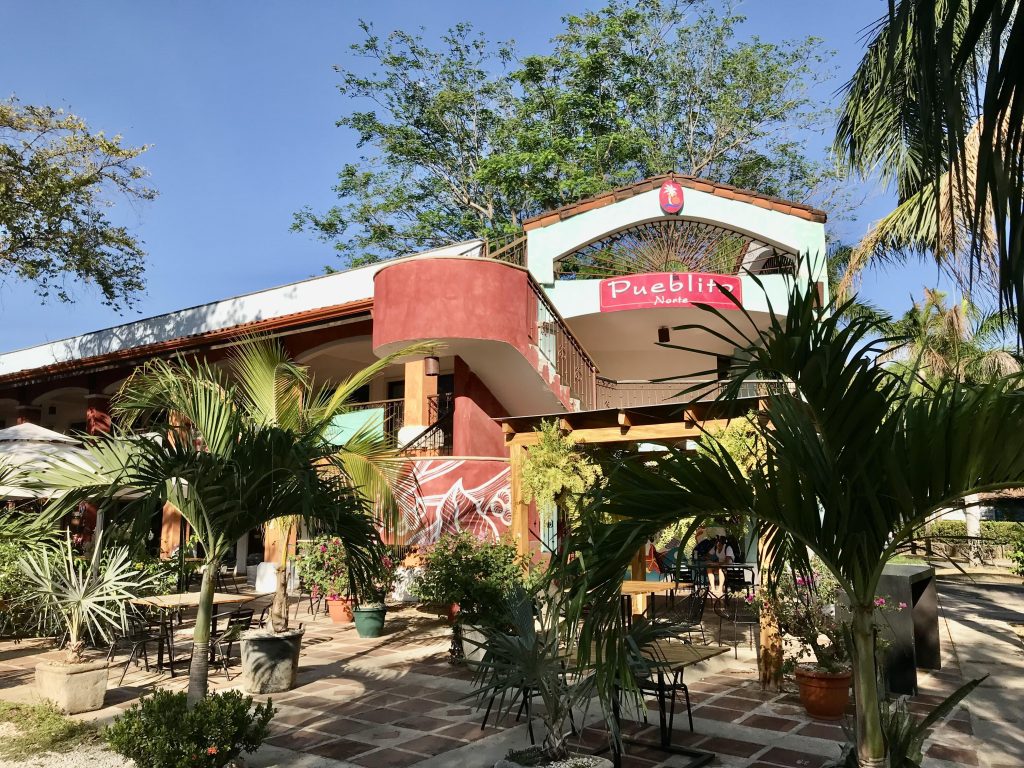 Abundance of Amenities for a Comfortable Stay
Vacationing in Playas del Coco and Hermosa provides you with all the comforts of home and more. Grocery stores, restaurants, liquor stores, and other essential amenities are easily accessible, making it convenient to stock up on supplies or indulge in local cuisine. Imagine yourself savoring fresh seafood at beachside eateries or enjoying a relaxing meal with a view of the ocean. With over 100 restaurant options between Coco and Hermosa to choose from, your taste buds are in for a treat! Among the most highly recommended restaurants include Gingers in Playa Hermosa, and Che Sirloin for steak and Mar Azul for seafood in Playas del Coco.
Beautiful Beaches at Your Doorstep
One of the major draws of Playa Hermosa is its pristine beach. Its golden sandy shores received the prestigious Blue Flag designation for its cleanliness and environmental initiatives. Here you can soak up the sun, take refreshing dips in the clear waters, or simply enjoy leisurely walks along the peaceful coastline. Playas del Coco boasts a vibrant boardwalk along its shores that draw in tourists and locals alike for food, music, sunset, and people-watching. Both beaches provide access to thrilling water activities if you want to take a sunset cruise on the water, go deep sea fishing, or hop on a Sea-do. Whether you're seeking relaxation or something more lively, these beaches have something for everyone.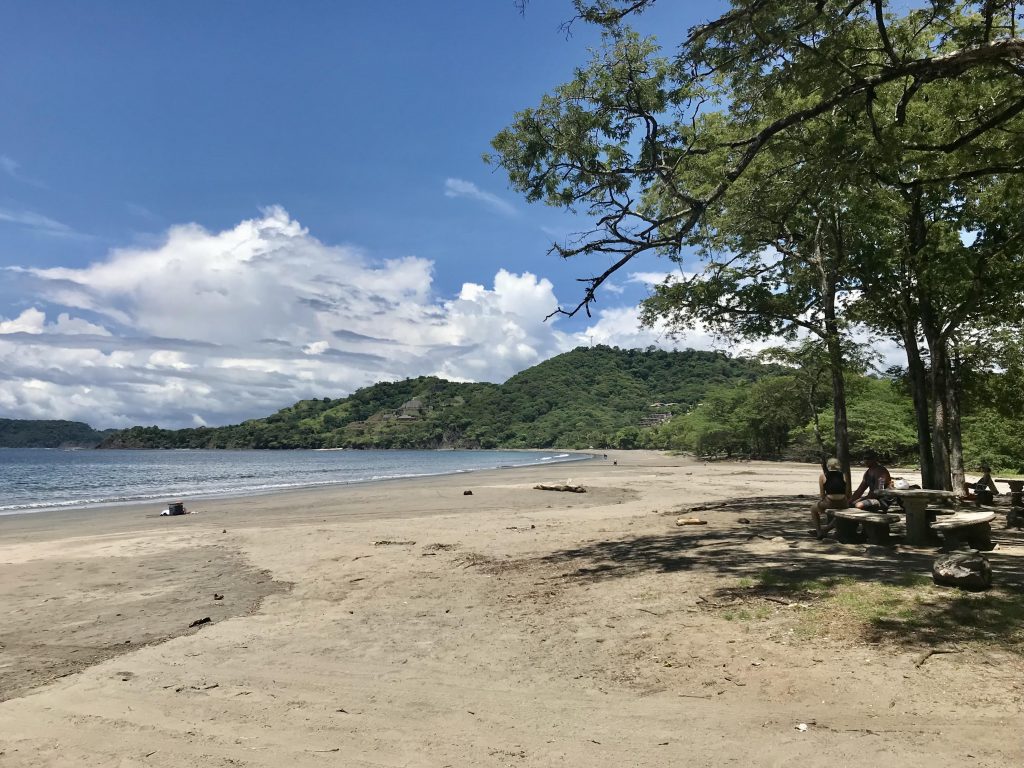 Things To Do in and Around Playas del Coco and Hermosa
The options for adventure and exploration are limitless in Costa Rica and there are plenty of things to do in Playas del Coco and the surrounding area. Discover thrilling water sports such as snorkeling at nearby Ocotal Beach and scuba diving at Las Catalinas Islands to discover the vibrant marine life beneath the surface. If you're a nature enthusiast, nearby ziplines and horseback tours at The Congo Trail provide opportunities for wildlife spotting, immersing you in the natural wonders of the region. Diamante Eco Adventure Park has the famous Superman zipline and animal sanctuary where you can see rescued sloths and jaguars. And it is just a short half an hour drive away!
Close to Spectacular Volcanoes
Playas del Coco and Playa Hermosa also serve as a convenient base for exploring Costa Rica's unique volcanic landscapes. Within just a few hours' drive, you can reach four stunning volcanoes – Rincón de la Vieja, Arenal, Tenorio, and Miravalles. Witness the power of nature as you hike through lush trails, soak in hot springs, and marvel at the volcanic features that have shaped this incredible terrain.
Coastal Beach Hopping Adventure
The Pacific Coast of Costa Rica is known for its diverse array of beaches, each with its own unique charm and character. With Playas del Coco and Hermosa as your base, you have the opportunity to embark on a thrilling beach-hopping adventure. Some nearby beaches to check out are Playa Panama and Playa Cabuyal to the north, and Ocotal, Playa Grande, Conchal, and Tamarindo to the south. You can explore hidden coves, pristine white-sand beaches, and vibrant surf spots as you travel along the coastline, creating memories that will last a lifetime.
There are definitely enough things to do in Playas del Coco and Hermosa to make these beach towns your ideal vacation home base. And by traveling just a few hours away you can discover even more of the iconic landscapes and microclimates of Costa Rica. From the convenience of direct flights to the nearby international airport and accessible paved roads to the abundance of amenities, stunning beaches, and proximity to captivating tourist activities, these towns provide a perfect blend of comfort and adventure. Whether you're seeking relaxation, exploration, or a mix of both, Playas del Coco and Playa Hermosa welcome you with open arms and the promise of an unforgettable vacation experience.
So, if you're looking to create cherished memories in a tropical paradise, consider Playa Hermosa and Playas del Coco, Costa Rica. Explore the wonders of Guanacaste, discover beautiful beaches, and immerse yourself in the vibrant culture of Costa Rica's North Pacific Coast. Your next extraordinary vacation begins in Playas del Coco and Hermosa.
Find your perfect vacation spot on Guanacaste's Golden Coast! Rich Coast Vacations offers affordable condos and luxurious oceanfront villas in Costa Rica with add-ons such as car rentals, tours, in-house services, and vacation specialists to give you the trip of your dreams. Contact us today at (506) 8917-3917 or richcoastvacations@gmail.com.
Written by Jennifer LaCharite – Costa Consultants, International