Costa Rica, with its lush rainforests, breathtaking landscapes, and sandy beaches, is a dream destination for travelers seeking an escape to paradise. One of the best ways to experience this natural wonder is by staying in an oceanview vacation home, which offers both budget-friendliness and luxurious amenities.
One of the most popular and easiest places to experience this type of trip is in the towns of Playas del Coco, Playa Hermosa, and Ocotal, where you can find accommodations suitable for larger groups, such as multiple homes or condos in the same area. Whether you're planning a memorable family reunion, a getaway with friends, or a corporate retreat, these towns hold the promise of an unforgettable trip without the expense or watered-down experience of a resort stay.
The Allures of Playas del Coco
Located in the Guanacaste province, Playas del Coco stands as one of Costa Rica's most popular beach destinations. The town's vibrant atmosphere, combined with its convenient location just a half hour from the international airport in Liberia, makes it a top choice for travelers seeking both excitement and relaxation. Playas del Coco offers a diverse range of oceanview vacation rentals, catering to various budgets and preferences.
When searching for Costa Rica oceanview villas or a vacation home in Costa Rica, Playas del Coco boasts an extensive selection. Larger groups can find numerous villas and vacation rentals that comfortably accommodate everyone, providing spacious living areas and private pools to enjoy at leisure. These rentals often come with modern amenities, ensuring guests' comfort during their stay.
Beyond the comforts of the vacation rentals, Playas del Coco offers a plethora of water-based activities, from snorkeling and scuba diving to fishing and sailing. Its proximity to various dive sites and the renowned Bat Islands attracts diving enthusiasts from around the world. Additionally, the town's bustling main street, lined with shops, restaurants, and bars, presents a vibrant nightlife that appeals to visitors of all ages.
Discover oceanview vacation homes in Playas del Coco, Costa Rica
Playa Hermosa's Serenity and Seclusion
For those seeking a more tranquil retreat, Playa Hermosa presents a perfect haven. As its name suggests, Playa Hermosa translates to "Beautiful Beach," and it certainly lives up to its reputation with its pristine coastline and picturesque sunsets. This coastal gem is an excellent option for groups looking for a peaceful getaway, away from the hustle and bustle of more touristy areas.
Playa Hermosa offers an array of vacation homes and condos that provide breathtaking ocean views. Many of these properties offer ample space for larger groups, ensuring a sense of privacy and relaxation during your stay. With direct beach access available in some rentals, guests can relish in the beachfront experience without the crowds.
The laid-back ambiance of Playa Hermosa allows visitors to unwind and connect with nature. You can take leisurely strolls along the beach, bask in the sun, and simply enjoy the tranquil surroundings. Additionally, the nearby Playas del Coco offers all of the convenience of a modern city with several grocery stores, restaurants, doctors and dentist offices, pharmacies, and a casino.
Discover Costa Rica oceanview villas in Playa Hermosa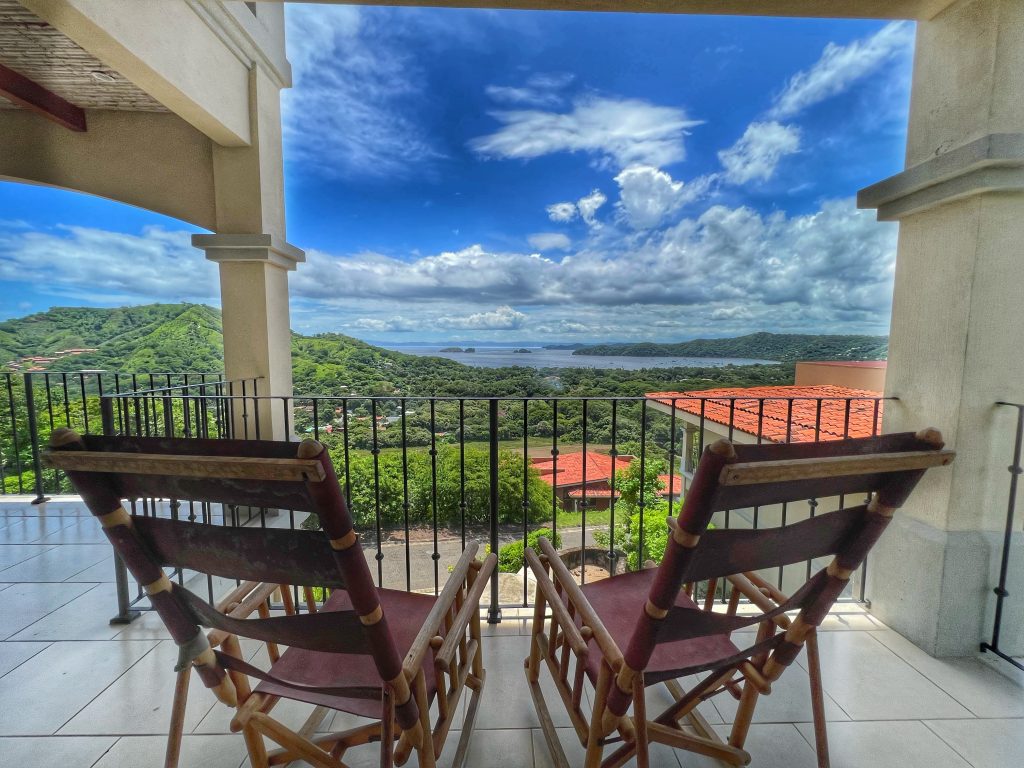 Discover the Hidden Charm of Ocotal
Nestled in a charming cove and surrounded by lush tropical hills, Ocotal is a lesser-known destination that promises an intimate and exclusive experience. While not as popular as its neighboring towns, Ocotal offers a unique setting that captivates the hearts of those who venture here. The town offers a selection of vacation rentals with breathtaking ocean views, catering to different group sizes and budgets.
Ocotal provides vacation homes and condos equipped with amenities such as fully equipped kitchens, spacious balconies, and shared communal areas. These accommodations offer the ideal balance of comfort, convenience, and affordability for larger groups. With its serene and secluded location, Ocotal is perfect for those seeking a peaceful retreat and an opportunity to connect with nature.
While in Ocotal, visitors can explore nearby attractions such as the Congo Trail Canopy Tour for a thrilling ziplining experience or go scuba diving right from the beach to explore the area's rich marine life and underwater wonders.
Choose your vacation home in Costa Rica in Ocotal
Budget-Friendly Tips for Costa Rica Oceanview Villas
Traveling to Costa Rica on a budget doesn't mean compromising on a luxurious experience. Here are some valuable tips to help you make the most of your oceanview vacation rental adventure:
1. Travel during the shoulder season: Consider visiting during the shoulder season, which falls between the peak (December to March) and off-peak seasons (September to November). This period offers favorable weather and reduced accommodation costs.
2. Book in advance: Early booking often comes with better deals and discounts, allowing you to secure the ideal rental for your group without breaking the bank.
3. Share expenses: If you're traveling with a larger group, splitting the cost of the vacation rental among all members can make it more affordable for everyone.
4. Cook your meals: Take advantage of the fully equipped kitchens in the vacation rentals and enjoy cooking together. This can significantly save money on dining out while providing an opportunity to savor delicious homemade meals and sample local ingredients.
5. Research local free or low-cost activities: Costa Rica offers plenty of free or inexpensive activities, such as hiking in national parks, spending relaxing days on the beach, exploring waterfalls, and strolling through local markets. These activities allow you to immerse yourselves in the country's natural beauty without stretching your budget.
Costa Rica's Pacific Coast boasts a treasure trove of hidden gems, and exploring towns like Playas del Coco, Playa Hermosa, and Ocotal offers a unique experience for larger groups seeking oceanview vacation rentals on a budget. With a wide range of options to choose from, these towns cater to travelers looking to immerse themselves in Costa Rica's natural beauty while enjoying the comforts of home. Whether you're in search of vibrant nightlife, serene seclusion, or untouched charm, a vacation home in Costa Rica promises a memorable stay that blends luxury with affordability, ensuring an unforgettable journey in this tropical paradise.
Find your perfect vacation spot on Guanacaste's Golden Coast!Rich Coast Vacations offers affordable condos and luxurious oceanfront villas in Costa Rica with add-ons such as car rentals, tours, in-house services, and vacation specialists to help you have the trip of your dreams. Contact us today at (506) 8917-3917 or richcoastvacations@gmail.com.
Written by Jennifer LaCharite – Costa Consultants, International